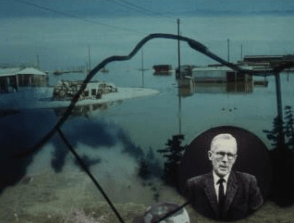 by Leo Goldsmith
Pat O'Neill's "Let's Make a Sandwich"
Art Agenda
January 21, 2016
Los Angeles-based artist Pat O'Neill has been making work for the last 50 years, and yet it's rarely seen in New York. A key figure in West Coast experimental cinema, O'Neill is probably best known for highly plastic and technically accomplished films like his lysergic 7362 (1967) or his extraordinary 35mm feature Water and Power (1989), an experimental documentary concerning, among many things, the development of the Los Angeles Basin from prehistory to the present. But since the start of his career O'Neill has also been involved in an astonishing range of media—photography, sculpture, collage, and installation, in both commercial and independent spheres. Now in his late seventies, O'Neill is the subject of his first New York solo exhibition, which offers a concise but judicious sampling of his varied output.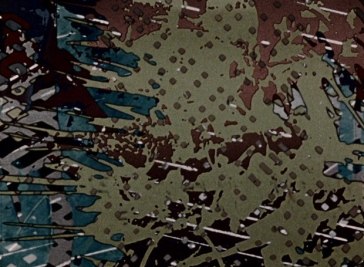 by Travis Diehl
Pat O'Neill at Cherry and Martin
Artforum
June 2015
While Pat O'Neill is primarily known as an experimental filmmaker, this small retrospective, which filled two moodily lit galleries with five decades' worth of sculptures, drawings, photographs, slides, and films, made a case for another, adjacent view of his practice—one concerned with fixed visual forms. In Untitled (Dingo 4), 1980, four identical gelatin silver prints of a dog appeared side by side, each overlain with a small photocopy that was partially obscured, in turn, by a different-colored paint chip—a frame-by-frame dissolve from color to color that recalled O'Neill's movies.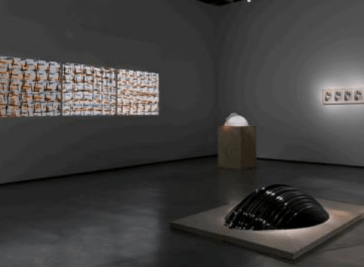 By David Pagel
Pat O'Neill plays fast and loose at Cherry and Martin
Los Angeles Times
March 21, 2015
If computers could dream, Pat O'Neill might be their Sigmund Freud. His multilayered films, sculptures, collages and drawings — in a mesmerizing mini-survey at Cherry and Martin — seem to be made from the deleted files, trashed photos and lost messages that are beyond the reach of our phones and notebooks but still out there in the ether, with the capacity to come back to haunt us, sometimes savagely.